Luxury Santa Monica Apartments for Rent
Discover Santa Monica Apartment Living - Now For Rent and for Lease!

Imagine living in an area where hundreds of thousands of people from all over the world trek to every year to immerse themselves in it's world-famous beaches, shopping, dining and the renown pier.

Now, it is possible to live full-time where many only dream of living... in Santa Monica, California! The warm, sunny climate, the clean-ocean air are now yours to enjoy all year long! Your new calming soundtrack is the sound of seagulls calling each other and the soothing sounds of the Pacific Ocean's waves crashing against the clean shores of Santa Monica Beach.
NMS 1539 - Notably spacious loft, one-bedroom and studio apartments, and is ideally located in downtown Santa Monica. LEARN MORE
NMS 1548 - Luxury one-bedroom and two-bedroom apartments crafted with a modern touch. LEARN MORE
NMS 1427 - Live in luxury at one of these amazing one-bedroom, one-bedroom with den or two-bedroom apartments. LEARN MORE
PACIFICO BY NMS - Newly remodeled one and two-bedroom mid-century modern apartments in Santa Monica.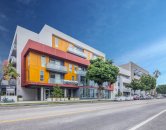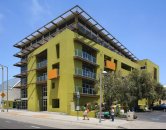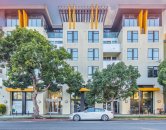 Now Renting an Amazing Experience for All
If you've ever wanted to live in a city where everything was at your fingertips, then there is no better option then Santa Monica, CA. Santa Monica offers tremdendous amounts of activities, community events for families, dining and bars, a modern nightlife, and of course some of the best retail around. The laid-back vibe of santa Monica compliments it's overall Downtown area quite well. With numerous perfect spots on the beach to bring your laptop to and work, you will never be without a quiet area among this busy beach-town city.
Silicon Beach
With a bustling and ever-growing tech start-up scene, Santa Monica and Venice houses some of the largest up-and-coming technology and intenret companies around. If you thrive in an environment of innnovation, there are currently numerous companies that are hiring in this vibrant locale. If you're looking to join or be near more established companies, Hulu, Google, Activision Blizzard, Demand Media, Toms Shoes, and InvestIn are just a few companies that have made it big in the Silicon Beach realm. You can learn more about Silicon Beach and it's more current happenings right
here
.
Downtown
To live in Downtown Santa Monica is to thrive in one of the most lively, yet laid-back areas of Los Angeles. The beach is just steps away, yet tall buildings and successful people from all walks of life venture through the streets of Downtown on their morning commutes to their office. Most who live in Mid-City and Downtown are able to walk to work, which makes the LA commute horror stories a thing of the past. Since you're just a few hundred feet from basically everything that you need, living or working in Downtown is ideal for anyone with limited time, or even someone who simply wants to make the most out of the time that they have in one day. Generally, you will see the Downtown zip codes as 90401.
Green Living - A Truly Green Place to Live
Santa Monica has been named one of the greenest cities in the world, and rightfully so! With many of it's resident's biking or walking to work, and with a good amount of people taking a bus in and out of the city, it greatly reduces the pollution in the air. Moreover, with everything being so local, most residents opt to walk to nearly every place that they need to go. With numerous grocery stores such as Whole Foods, Vons, and of course the famous Santa Monica Farmer's Market, stocking your kitchen with the essentials is a breeze.
Mid-City
With so much in Downtown, it would be hard to leave. However, if you wanted a change of scenery, just a short walk away, you will find Santa Monica's prized Mid-City area. You will find more elegant shopping, refined coffee experiences, and many mom-and-pop boutique shops for an array of items such as candy, chocolate, baby items, fashion, clothing, couture, wine, specialty cheeses from the around the world, craft beers from around the world, and even a few reliable Starbucks coffee shops!
Santa Monica Pier
If you've dreamed of living close to the pier, you will be thrilled that all of our Santa Monica properties are just steps away from all of the fun that happens on the pier! The pier is a great place to catch free live music, special features such as Cirque Du Soleil, and even more mouthwatering dining! The Santa Monica pier's history dates all the way back to 1909. With what was originally intended to be a sewage pipeline cover, the city ended up creating a monumental tourist attraction with it's grand-opening of the Santa Monica Pier. The pier became a hit among the local fishing community, and men and women of all ages soon enjoyed the fruits of their labor as they caught an abundance of fish from the new pier. In June of 1916 the pier became much more lively with the addition of band organ music that could be heard well into Downtown.
The doors of the Looff Hippodrome opened with much fanfare, and everyone flooded in to partake in the new rides and attractions that included a brand-new carousel. More attractions were built-in shortly after this, such as the Streak Racer Roller Coaster. Storms that occured in the Winter of 1983 brought with it a great deal of destruction to the pier, but fortunately, it was not only restored, but completely revitalized. The pier was rebuilt to be more sturdy and more inviting than ever before. This construction occured began in 1987 and was completed in 1990. Today, the Santa Monica Yacht Harbor and Pier has become a national icon that thousands of people from all around the world visit daily. While remaining true to it's history, the pier offers something for everyone. Whether you're looking to enjoy a thrilling roller coaster ride, or to be entertained... it's all here awaiting you!
Moving and Relocating to Santa Monica
Relocation to Santa Monica doesn't have to be tough! We've got everything you need and many apartment home rentals to fit every budget. Ready to get started? Click the link below!